Tonight, Rangers travel to the Duchy of Luxembourg for the return game against Progres Niederkorn to defend a slim 1-0 lead.
No! Sorry that can't be right I will start again. On Tuesday, Rangers travel to Luxembourg for the return game against Progres Niederkorn to add to their one goal lead. Surely even suggesting that Rangers could lose to what many call a pub team from Luxembourg would be bordering on insanity? A team from one of the smallest states in Europe and with only a population of over 500,000. No c'mon Ibrox was a fluke performance from Prógres that can never happen again. This time we will open them up and score at least five or six. Possibly but the fact is Prógres, is as Luxembourg City, a fortification. As we know one thing that Rangers have struggled with in the past five years is breaking down fortifications.
Under Mark Warburton the tactics were to keep hitting the fortress wall until it collapsed. If it didn't collapse then we hit it harder. Unfortunately for him it was Warburton's strategy that collapsed and he moved on to Nottingham where he attempted to become a Robb'n hood.
The question is: has Pedro improved us? And for me, at this moment, the answer has to be no. Yes, the first half on Thursday produced some sublime football, but that was also the case under Mark Warburton. Apart from one situation of fantastic thinking by Niko Kranjcar and Kenny Miller to score the only goal, we still battered our head against the proverbial brick wall. The worrying thing for me was that the team ran out of steam in the second half. The early in the season excuse was banded about but where in the season are this pub team from Luxembourg? Surely they are also in a pre-season situation? I will give Pedro the benefit of the doubt that he is still carrying most of Warburton's team but you are looking for a manager to improve players and I have seen little evidence of that up until now.
Looking at individual performances then Niko Kranjcar stuck out like a sore thumb producing some brilliance and running the whole Rangers attack. Martin Waghorn also stood out like a sore thumb but a real sore thumb. Not totally his fault though as I feel as he was given very little support and that has been a part of our recent history whereby we just do not get enough players in the opposition box. Waghorn was shouting and pointing in numerous occasions that there should be more players in the box. Hence, while it is easy to make Waghorn the enemy of the state, and he does miss too many chances, it is difficult for every striker when you lack genuine service or support.
One player that has given the team a lift is Ryan Jack (excuse the pun). Ryan has been excellent in breaking up play and been very safe in his placement of the ball to his team mates. The one thing that I feel we can be maybe a little bit critical about him is, that he may play too safe. He comes very deep to get the ball and then mostly plays it square. If we want to play the pressing game then it would be better if Ryan plays in a slightly more advanced position if we have the ball. Fabio Cardoso also looks more than capable of bringing the ball forward from the back. With Cardoso and Alves together we may just have a modern day Butcher and Gough partnership.
Our new winger Dalcio played well in the first half but disappeared in the second. Again it was not totally his fault as the whole team seemed to struggle. The jury is still out on him. Daniel Candeias came on for Jason Holt and that upset the balance of the team for a while as Kranjcar began to tire. Credit to the manager though who saw he had made a mistake with his substitution and brought on Jordon Rossiter to try and regain control.
We never really played like we did in the first half again but we did manage to create a few more chances which if we scored would have made tomorrow's game a lot more comfortable. Candeias did look very quick and also looks if he could be a more skilful than the likes of Michael O'Halloran with hopefully an end product too. Again it is too early as we have only seen a half-hour of him.
Moving onto our opponents, due to it being a fortress, plus the size and geographical position of Luxembourg it has made it the first country to be invaded in most wars. With Belgium (an earlier part of the Dutch empire) France and Germany bordering it, it is influenced by the French and German Cultures. Formed originally as a part of the Roman empire it has been under the rule of of France, Austria, William the 1st of Orange from the Netherlands, and obviously the Germans during the World Wars.
Tonight it will be invaded again. Not by any of the major countries of the past this time, but by anything up to 10,000 Rangers supporters. Prógres have moved the game to Stade Joey Barthel Stadium where the National team play their games to let as many Rangers supporters possible attend the match. A nice little financial boost for the small Luxembourg club. Many supporters are travelling even without tickets in the hope of acquiring one at the ground. Thankfully the Luxembourg supporters are not known for causing trouble so it should be a party atmosphere.
I expect we will will start with the same team as at Ibrox but I do think there will be a place for Herrera and possibly Pena later on depending on their fitness levels. I would love to see Morelos start instead of Waghorn to see what he can do but I think Pedro will stick to the plan he had in the first leg. As Frankie commented in the first leg preview, "Failure is not an option."
C'mon the Gers!!!!
Possible team (4-2-3-1)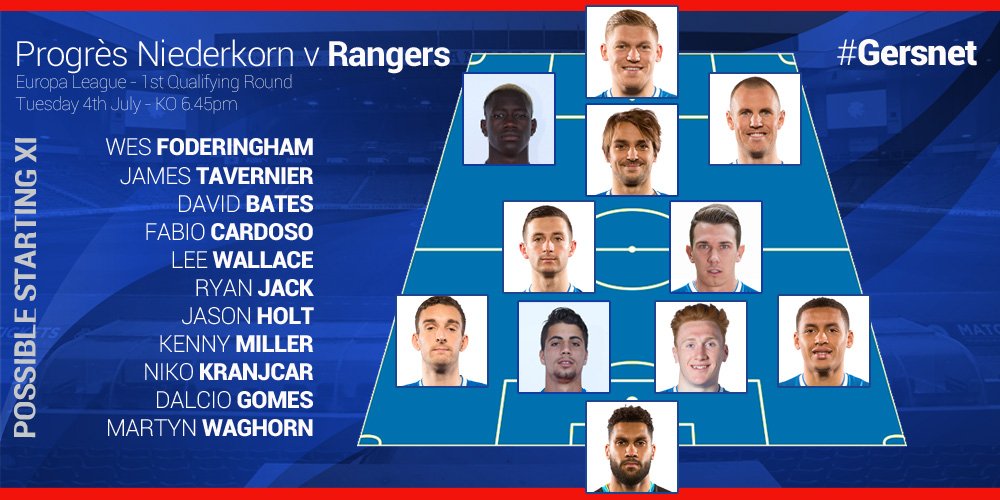 Discuss this article
Enjoyed this analysis? Disagree entirely? Found a spelling mistake? Whatever your opinion, it's welcome on our popular and friendly message-board.