IBROX -- Pedro Caixinha cut an imposing figure as he emerged in black from the tunnel into the glare of the afternoon sun. Ibrox responded with a customary roar, but a quick raised hand was all before he took up position on the touchline; arms folded, legs apart, he gazed over his new players like a general examining his troops.
I hate to go all 'hipster' this early, but with a new manager comes a new style and philosophy; and two words that have followed Caixinha throughout his career has been Tactical Periodisation (TP). TP is not a philosophy in itself, nor a style of play; it is merely a way of thinking about the game by breaking it into key stages, namely: Defensive Organisation; Offensive Transition; Offensive Organisation; and finally, Defensive Transition.
According to TP, these are the 4 key stages in any game of football. It is then up to the manager to decide how he wants his team to react in each of these stages. Some sides, like Guardiola's Man City want that Offensive Organisation set up before they play out from the back; others like Klopp's Liverpool, prefer to play with pace on the transitions; others prefer to focus on Defensive Organisation, like Simeone's Atletico.
On first look, transitions seem to be the most important aspect of a game to Caixinha. On RangersTV, Tom Miller said that Transition was a new word for the counter-attack. Whilst Tom's not wrong, it's not the whole picture either, because although a team can transition offensively when they win the ball -- the counter-attack -- they also transition defensively when they lose the ball too.
Offensive Transitions
Our offensive transitions were a breath of fresh air. We moved the ball up the pitch quickly, whether with pacey, short one-twos, or with longer balls into space. Hamilton couldn't deal with the pace of our transitions at times. We also mixed up our transitional play with some longer balls into space, which were crucial in giving Hamilton something different to think about; both Waghorn and Miller were constantly looking to run in behind into the spaces, stretching play.
Offensive Organisation
The offensive organisation was slightly different to what we've been used to too. There were rumours that the width in Caixinha's teams come from the Full-backs, and this looks to be true. Instead of both wingers hugging the touchline, which too often saw our forward isolated, both "wide-midfielders" (McKay and Hyndman) played narrow. This gave space for Tavernier and Wallace to stretch the play.
We've seen our Full-backs bomb forward a lot this season, causing untold damage to our defensive stability. The difference on Saturday was the double-pivot; both Toral and Holt took up sitting positions to guard the back-four and support the rampaging Full-backs, and both were effective in their roles.
Ironically, our pitch geography -- a staple under our last manager -- was rather good: we created impressive overloads in key areas. Defensively, the double-pivot created a box-like formation at the back, allowing us to overload any Hamilton counter. Conversely, on the flanks we had 4v2 overloads, with Tavernier, Hyndman and Miller on the right-flank, with Holt supporting.
Defensive Transition
Those overloads also helped our defensive transitions. As soon as we lost the ball several players instantly press the ball and the passing options with an intensity that has been missing for far too long. The 'hunting-in-packs' approach allowed us to win the ball back quickly, and initiate offensive transitions.
It's no surprise that Tavernier -- like the rest of the back four -- had his best game in quite some time, because he was actually supported on the defensive transition instead of being left to do it himself; he's not a natural defender, his first instinct is to go forward, so he needs help. Holt was constantly by his side, applying pressure, with Hyndman supporting too. Tavernier's pace and energy always suited the intense press, but now that he has support, we should see him become a more consistent performer.
Defensive Organisation
Although our first instinct was to press on the defensive transition, there was a period towards the end of the game when we set up defensively in a low block, with two banks of four and a forward drifting to fill in gaps. Caixinha has said previously that if the press fails, then he wants his teams to be compact defensively. It's not something we want to see too often, but there will be times when we need to sit in. It was therefore pleasing that we didn't look troubled as Hamilton dominated possession and territory in this short spell.
Another pleasing sight was our variation in set-pieces. Over the last couple of games we've seen a revival in goals scored from set-pieces, and a lot of credit has to go to Graeme Murty for this -- the banner thanking him was a nice touch, and fully deserved. On the rare occasion when we crossed the ball, it was usually Tavernier hitting out-swingers; they were generally easy to defend against. On Saturday we saw Toral -- who had an impressive game all-round, distributing the ball with crisp accuracy -- deliver some delightful in-swingers; Clint Hill's goal came straight from such a delivery.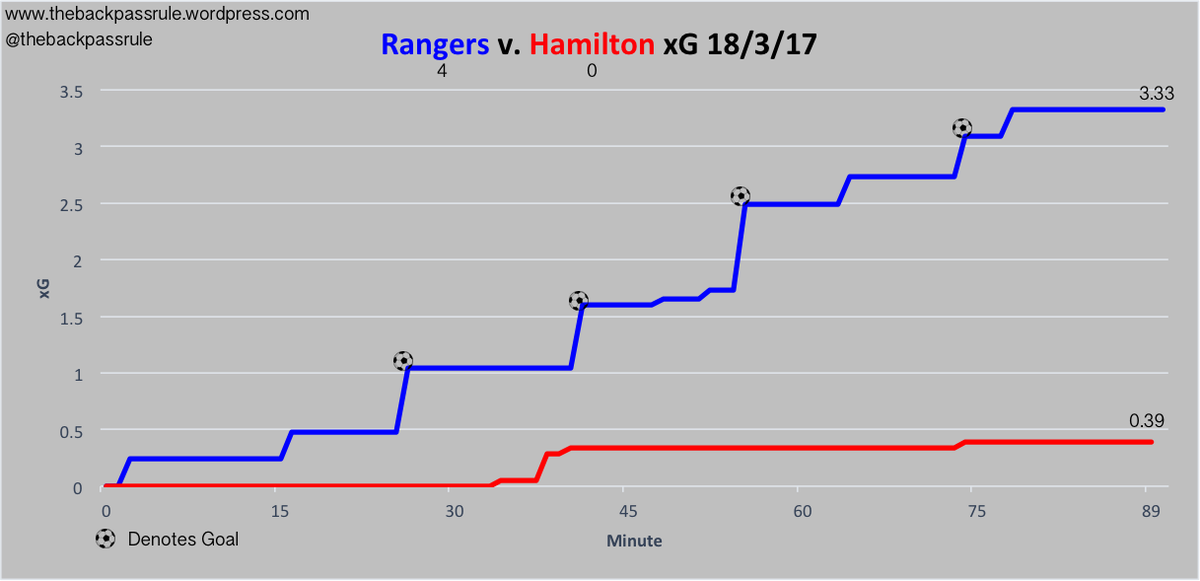 Provided by The Back Pass Rule
The game felt a lot more satisfying offensively. Too often we've seen possession for possession's sake, without creating too many chances. On Saturday it felt like the directness and pace of our attacks contributed to a lot more chances -- and better quality chances at that. The stats seem to back that up.
According to The Back Pass Rule, our average expected goals (xG -- a metric measuring how many goals an average team would have scored with the amount and quality of shots created) is 1.87 -- that's under 2 goals per game. Saturday saw that figure rise to 3.33 xG. The graph shows that we regularly created good chances throughout the game, and generally took them.
It's easy to get over excited, but we have to remember that this is just one game; Caixinha's first, against a struggling club. Nevertheless, it looks like we will have a team that is well-drilled, intense in the press, able to attack with variation, and able to defend compactly when the situation arises. Caixinha now has an international break in which to work with his new players. It is just one game, but the signs are positive.
Discuss this article
Enjoyed this analysis? Disagree entirely? Found a spelling mistake? Whatever your opinion, it's welcome on our popular and friendly message-board.