In a week when the Joey Barton saga took a new twist with the club extending his suspension by another seven days we have for the first time this season Barton-aside a full squad to choose from. That being said, it may not be the case that they are all fully match fit with Jordan Rossiter and Josh Windass in particular out for weeks beforehand; so the starting line-up for the away match with Inverness Caley may still be somewhat debatable.
Caley began the season with a poor run of three straight league defeats plus a league cup defeat to Alloa but have turned that around to be undefeated in their last five which comprises two wins and three draws. The last of those draws came in their last league match away from home against Hamilton Accies at New Douglas Park when, after a fairly evenly matched contest, they snatched a late equaliser deep into second half injury time. That alone suggests Caley are a side who play to the last minute and must be treated with due respect.
What may be more relevant to Rangers was that in their most recent home game when the opposition were Dundee they turned in a performance which though on the day was statistically fairly well matched in terms of possession and shots by the away team they still ran out 3-1 winners. And, in fact, Caley are undefeated at home since week two of the league season when they sustained a narrow 2-3 defeat against Ross County.
In addition, only one of their three league defeats this season has come at home: and it must also be taken into consideration that Caley have already welcomed three of the current top four to the Caledonian stadium this season. St Johnstone, Celtic, and Aberdeen have all made the trip to Caley in recent weeks and it has to be significant that none of them came away with a win.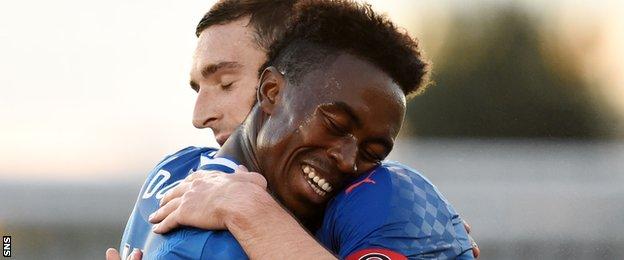 St Johnstone were defeated 2-1 while both Celtic and Aberdeen were held to a draw. Aberdeen were limited to a 1-1 draw; while league leaders Celtic also had to settle for just one point after Caley, just as they did against Hamilton, pulled a late equaliser out of the bag with an 89th minute goal. Thus, given that Caley have suffered just one home league defeat this season and beaten one of the current top four while drawing with the current top two; we have to expect a difficult match against a team full of confidence when facing top opposition. It actually may even be argued that Caley are the form team having taken nine points from the last 15 available while we have taken just five from the last 15.
All of that having been said, Rangers can still make the trip North with some optimism since performances have improved in recent weeks; putting aside a relatively poor showing last time out against Partick which somewhat ironically resulted in a win and three much needed points. Caley are undoubtedly a well organised hard working outfit but there is arguably a significant class gap between them and a Rangers squad which has no injuries for the first time this season. We must look for any gap to be fully exploited in what is very possibly to be yet another case of a team parking the bus while hoping to steal a goal from us on the break.
This indeed may be viewed as an ideal match in which to produce an impressive winning display with a few goals thrown in against a side what have done well at home this season. Not only would it provide another crucial three points it would be a huge confidence booster before we meed Celtic again at Hampden in the league cup semi final.
What better way to prepare for a game of such significance than with a convincing away win at a ground the opposition in that semi final plus all top half sides who have gone there have failed to win at? That factor alone makes for an interesting psychological aside which could also be secured with a commanding performance which I feel the team are capable of.
See below for one possible line-up. Joe Dodoo may or may not start but let's hope he's cuddling his fellow players with joy by the end of the match tonight!
Discuss this article
Enjoyed this analysis? Disagree entirely? Found a spelling mistake? Whatever your opinion, it's welcome on our popular and friendly message-board.