As much as the Rangers newco/new club debate has become as tedious as most fractured, imbalanced discussions usually become, there are various interesting asides this weekend as we prepare to take on Livingston in West Lothian tomorrow.
Firstly, our opposition are no strangers to issues of name-changes and financial impropriety. Initially formed as an amateur outfit in the early 1940s, the club was known for around 30 years as Ferranti Thistle - a works team of the old engineering company found in various places across central Scotland. However, in 1974, Thistle beat off competition from six other clubs to win a place in the reformed three-tier Scottish Football League. As part of that acceptance, they had to change their name and, given their move to a modern stadium built in Edinburgh a few years earlier, Meadowbank Thistle was born.
The next twenty years proved tough for the club. Despite managing to reach the old First Division on two occasions - including narrowly missing out on promotion to the old SPL due to a reduction of top-flight clubs in 1988 - Meadowbank really started to struggle in the 1990s. Two relegations in three years down to the newly created Third Division and various financial problems meant the club was facing closure so in an effort to addressing falling crowds and an inability to challenge the primary Edinburgh clubs, Thistle relocated to Livingston and changed their name once more - despite opposition from many of its own fans. Nevertheless, summer 1995 seen the club move to their new home, in the new town of Livingston - playing at a purpose built 4000 all-seater stadium now rented from the local authority.
The move resulted in substantially increased crowd numbers and following financial backing from three wealthy Celtic fans, the future looked bright for Livingston. Indeed, promotion to the top tier followed within six years and European football also arrived in West Lothian as the club achieved an impressive third place finish in their first season in the SPL. Unfortunately, things began to go sour soon afterwards. In circumstances that mirror what has happened at Rangers in recent times, the club was pushed into administration and subsequent ownership issues and allegations of fraud were played out in the courts over many years. Further changes of ownership failed to address the financial problems and a second administration followed along with demotion to the old Third Division for an alleged break of financial insolvency rules. During this time, the club even boycotted their first match of 2009/10 and were later fined for this - a fine overturned on appeal resulting in no eventual punishment. It seems Rangers haven't been the only club in which the football authorities have played fast and loose with their own rules.
Since those dark days, Livi have thankfully steadied the ship somewhat with promotions back to the second tier though were censured again last season for tax payment problems and issues surrounding dual ownership. Suffice to say, supporters of both clubs should be sympathetic to the plight of the other when it comes to matters off the field of play. It would certainly be a surprise to hear the "You're no' Rangers anymore" dirge tomorrow....
On the park, the players have already faced each other twice this season - both games won by Rangers at Ibrox, one in the league and one in the Challenge Cup. The second game in particular was very tight and although Rangers dominated, the home side didn't secure the win until the 75th minute via a sublime Nicky Clark strike. The main memory from the game though was an overly aggressive, physical performance from Mark Burchill's men and a dreadful display from the officials as they failed to see (or deal with) the often dangerous play of the visitors.
The Rangers team that day lined up very similar as to what I expect it will tomorrow. Only Nicky Law is likely to miss out through injury and it may be the fit-again Kenny Miller is preferred to Nathan Oduwa in one of the wider attacking roles. Gedion Zelalem will take Law's place and the rest of the team will be along familiar lines. Ironically, given their style of play at Ibrox in late October, it's Livi who have the more pressing injury problems and are apparently struggling to put together a full squad for tomorrow. Even so, after a two week break, Rangers fans will be expecting a refreshed first XI, eager to maintain our lead at the top of the table. With a wintry weather outlook, hopefully our fans will have plenty of goals to keep them warm tomorrow afternoon!
Possible team: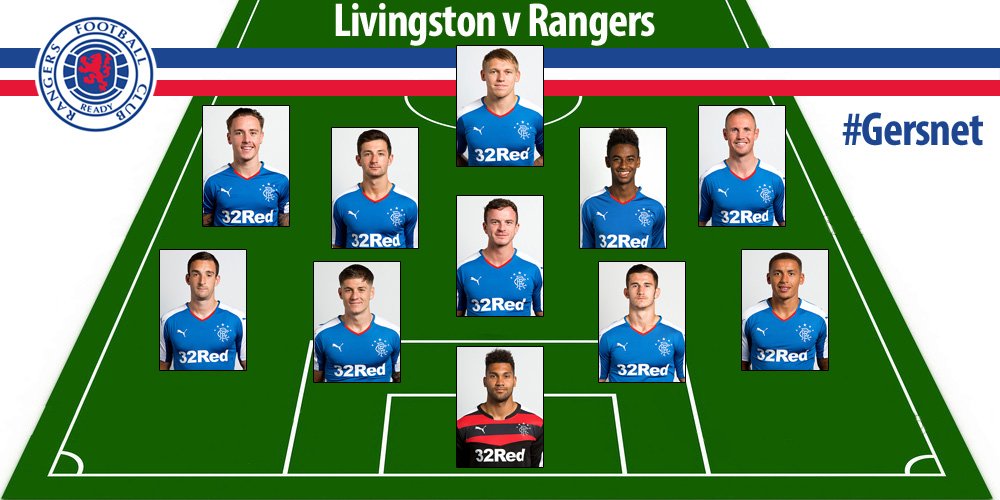 Discuss this article
Enjoyed this analysis? Disagree entirely? Found a spelling mistake? Whatever your opinion, it's welcome on our popular and friendly message-board.