"It is a case of taking each game as it comes, there is no point trying to plan too far ahead than the next game at the moment."
Sitting top of both the Scottish Premiership and our Europa League group, still unbeaten in all competitions and with a goal difference that is unmatched in world football, means many Rangers fans are rightly confident at the moment: as are the players and that assurance has been reflected on the pitch. However, the quote above from Rangers manager Steven Gerrard ahead of our return European match with Benfica on Thursday night was wise indeed. Nothing has been won yet, and, as we've seen at various clubs domestically and abroad, the global pandemic can quickly change matters at any club.
That's not to be pessimistic or unduly negative.
With Celtic struggling for form and their fans arguing amongst themselves regarding their board and manager, SPFL matters could barely be better for Rangers. Top of the table by 11 points and having only conceded three goals has us in a fantastic position and, despite a tough sequence of matches to come through December, this Rangers side shows no sign of buckling. Our European campaign has been similarly impressive. Again we currently sit top of the group - albeit on the same points as Thursday's opponents - and only two late goals in Portugal have stopped us from being further ahead. Yet, it was that late capitulation, against the ten men of Benfica, that shows positive situations can turn bad and quickly.
The game in Lisbon was a strange one. Rangers couldn't have started any worse with a mistake from the usually reliable Helander gifting a goal after just 60secs. The following 15 minutes were also a struggle and it wasn't until Otamendi's 19th minute red card that the tide turned for us. A quick equaliser followed by taking the lead with a superb team goal just a minute later meant the team grew in confidence and played with a swagger you rarely see from Scottish teams away in Europe. A 51st minute third goal had us on easy street and right up until Benfica pulled one back in the 77th minute, Rangers played with an accomplished manner which took us back to the days of Dick Advocaat's expensively assembled team. Yet, incredibly (and it still hurts three weeks later) we contrived to throw what looked a comfortable win away. A lack of concentration, an over-confidence, positional errors - call it what you will, we succumbed to a third late goal and two points were dropped.
Thankfully the reaction since has been impressive. Hamilton Acas were swatted aside before the international break and Aberdeen dismissed by four goals upon our return: 12 goals scored, zero conceded. That shows a team annoyed by events in Portugal and focussed on righting the wrongs from that night, alongside any other perceived weaknesses from previous campaigns. Let's hope the same mindset is used on Thursday night, especially with Benfica weakened by suspension, injury and Covid issues. The loss of Otamendi, Weigl, Taarabt and the first game changer Nunez means opportunity knocks once again...
In terms of our team, the manager has pretty much a fully fit squad to choose from. Jack may have a late fitness test but only he and Zungu may be unavailable out of our European squad. That means two possible outlooks for the manager: does he continue with the more aggressive setup to his team that we've seen by and large domestically or a slightly more cautious strategy? For example, although Jack's availability may force Gerrard's hand somewhat, does he utilise Davis, Kamara and Arfield as his deeper three with Kent, Roofe and Morelos a very attacking front three. Or, as we seen in Lisbon, will Aribo be preferred to Roofe (or indeed Morelos) in one of the advanced roles? With other options such as Brandon Barker (no stranger to starting European games) and Ianis Hagi (who looked sharp in his late cameo against Aberdeen) the manager also has the element of surprise should he choose it.
No selection shocks are likely defensively. Filip Helander had the proverbial nightmare in the first fixture but usually offers the kind of calm presence that is required in such fixtures. That will mean Balogun again dropping out but we're lucky to have the Nigerian international defender with his form impressive when called upon. At 'full-back', Barisic and Tavernier should provide their usual threat in wide areas but will need to stay switched on defensively when Benfica inevitably have periods on the ball and/or on the counter. Just like in Portugal, Aberdeen also showed in the first half on Sunday that we do leave gaps from time to time that can be exploited so care must be taken to provide cover.
Nevertheless, thus far this season, Rangers have passed all tests with flying colours. Yes, mistakes have been made, daft goals conceded and points dropped. Yet, the overall picture has been that of obvious progress with obstacles that previously caused us issues hurdled with relative ease. Group stage qualification may not be certain with three points from Thursday's game but it will provide just one more indication that, although the bulk of this Rangers team remains familiar, there is a new belief within it; along with a desire and winning mentality that every successful team needs.
Nothing has been won at this stage, and poor results will surely happen at some point, but this Rangers team have shown they can lead from the front and that must continue this week and into next month. So yes, as the manager says, let's take each match as it comes but, as other clubs question their challenge let's keep the pressure on home and away.
Possible starting XI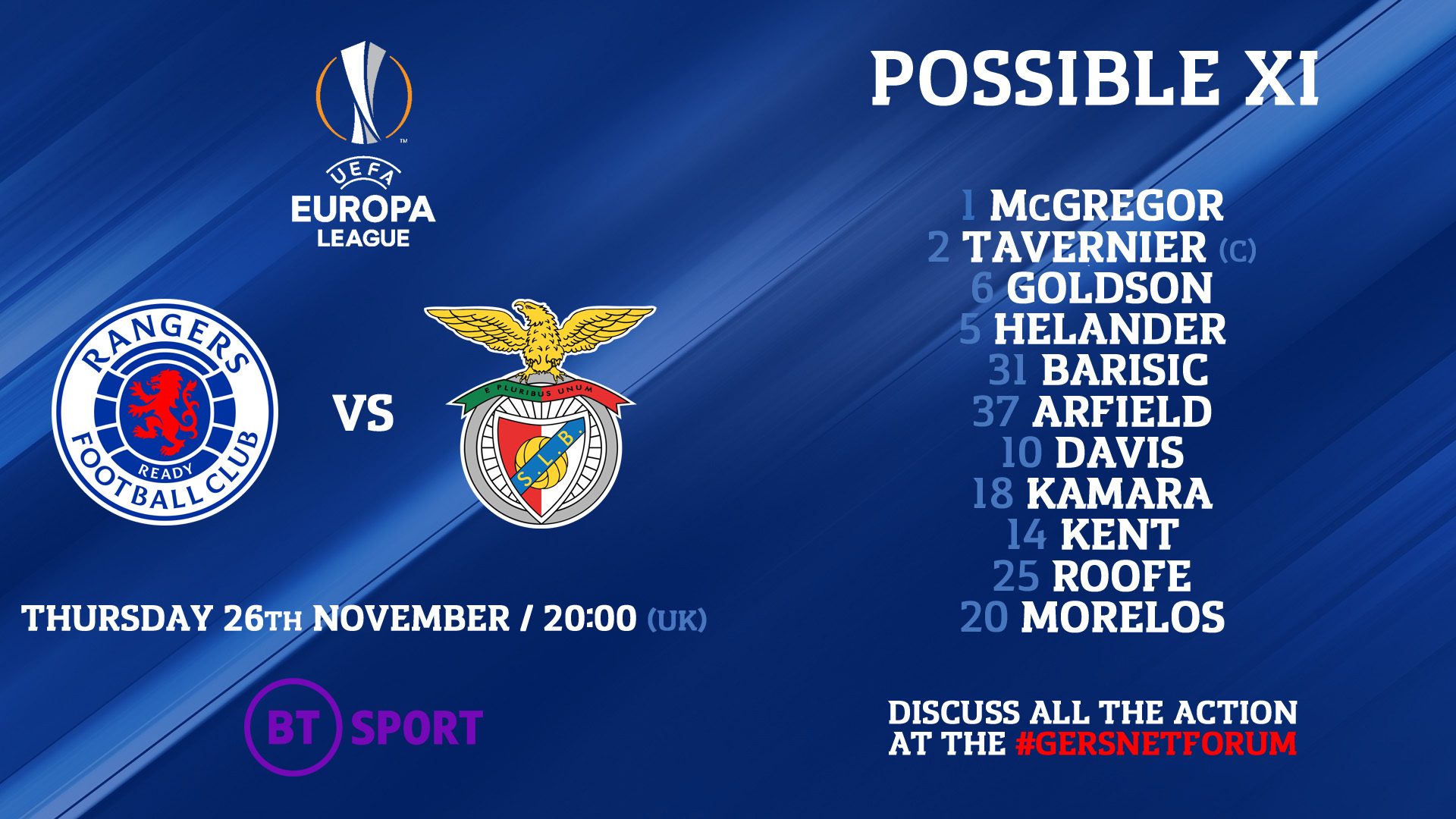 Discuss this article
Enjoyed this analysis? Disagree entirely? Found a spelling mistake? Whatever your opinion, it's welcome on our popular and friendly message-board.