Graeme Murty and Mark Allen's encouraging mix of of signings has convinced Geordie.
IT may not be the best of British – but Rangers' recruitment drive does have a back-to-their-roots feel about it.
There are no exotic experiments for Graeme Murty and his director of football Mark Allen's with their identification of January transfer targets.
And the bigger picture is looking very encouraging.
Say what you like about their quite frugal approach to signing a host of players on permanent and loan deals with the promise of something more in the summer, it's energising both the fans and the club.
Forget Kris Boyd's claims of bullying by Gers and trying to upset other clubs' players.
Killie's Mr Big Noise knows better than anyone that all's fair in love and war in the chancing-your-arm world of professional football.
Rangers have bigger issues at play. This bid to freshen up the squad isn't a back-of-a-fag-packet approach, it's potentially a well thought-out master class in management.
The January juggling act aims to try and marry short-term impact with a long-game strategy with signings who should be about both present and future.
Murty's trying to make his mark on the squad by restoring a "play for the jersey" culture, lost in recent managerial disasters.
That DNA stamp began with Jamie Murphy, a dyed-in-the-wool Bear who gave the impression he'd walk over broken glass to get to Ibrox.
Greg Docherty is another example of going for players who will bust a gut for the cause, although whether Gers are prepared to fork out £600,000 to get the Hamilton ace is another matter.
The capture of Russell Martin is a master stroke by Murty as he's getting a player who's a leader and, at 32, ideal to lead this rebuilding project.
There's a false perception of the big defender that he's an occasional Scotland jersey filler or a stop-gap option for Norwich.
The reality is he has been the Canaries' captain and has been rubbing shoulders with English football's elite for three out of the last five seasons.
A solid signing, who could sign for Rangers for free this summer if Norwich don't take up their option to extend his contract.
Sean Goss is different. QPR have made it clear his move is one of learning and gaining experience before going back to Loftus Road in five months' time. But, it will be exciting to see how this slender English lad fairs in the Scottish game.
There is no long-term benefit to Rangers in getting the midfielder in, but it does provide cover when Rangers have a number of first-choice players injured in this area.
Then there's Jordan Jones who's had a price tag of around £1million placed on his head by Killie chiefs but plays in straight lines and too often heads up blind alleys - but does have pace to burn.
Killie boss Steve Clarke wrongly believes the £350,000 bid from Gers is an insult for a man who now carries the tag of a full Northern Ireland international.
It's a stretch though. If that's the criteria to join the million-pound club then St Johnstone will be rubbing their hands at the prospect of offers for Paul Paton.
The Perth midfielder was sitting next to Jones when he climbed off the bench to make his debut against Switzerland.
Day after day another possible target is identified by Rangers and clearly it's a well thought-out policy of January window plotting.
Editor's note

This piece of satire was based on a bizarre commentary from Gordon Parks in today's Daily Record which seemed even more confusing than the author's attempts to place a negative spin on Rangers positive transfer business so far in January. Politeness dictates I provide this link to the original piece but as much as you may wish to read the Record's latest one sentence paragraph nonsense, the graphic below should sum up Rangers supporters' attitude to this once proud tabloid.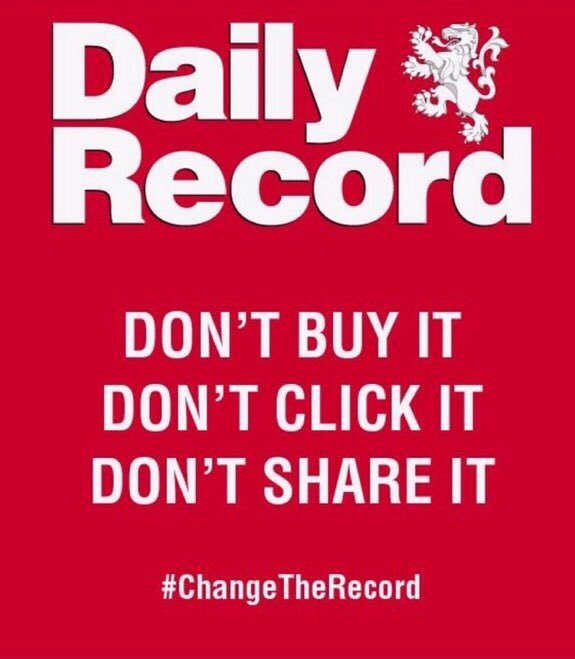 Discuss this article
Enjoyed this analysis? Disagree entirely? Found a spelling mistake? Whatever your opinion, it's welcome on our popular and friendly message-board.